Study Visa
The study permit or study visa is a document issued by foreign countries that allows foreign nationals to study in Abroad. Most foreign nationals need a study permit to study other countries. Make sure you have all the documents you need before you apply.
You need these documents to apply for a study visa :
Proof of acceptance - Your school/University must send you a letter of acceptance. Include the original or electronic copy of your letter with your study permit application.
Conditional acceptance and prerequisite courses
If you've been conditionally accepted, this means you need to take prerequisite courses. For example, these might be English as a second language or French as a second language courses. You must complete these before you can start your main study program.
Proof of identity - When applying for your study permit, you and each family member who comes with you to Canada must have a valid passport or travel document.
1. Online applicants: Upload a copy of the information page of your passport when you apply online. If you're approved, you must then send us your original passport.
Citizens of the United States have some options on the identification documents they can carry. two recent passport-size photos

The name and date of birth of the person should be written on the back of each photo.
2. Two recent passport-size photos
The name and date of birth of the person should be written on the back of each photo.
3. Proof of financial support - You must prove that you can support yourself, and the family members who come with you, while you are in Canada.
You can prove your funds with-
your bank statements for the past 4 months

a bank draft that can be converted to their currency




proof you paid tuition and housing fees

a letter from the person or school giving you money or

proof of funding paid from within that country, if you have a scholarship.
You may also need
1. a letter of explanation - This letter helps the visa officer to understand you and your goals. It explains
why you want to study in their country and

that you understand your responsibilities as a student
You should include this letter if you decide to apply for a study permit, even if you don't have to get a study permit for your program.
2. a custodian declaration (minors only)
3. other documents
Our Services
Application Assistance - Application assistance from inception till visa filling

Counselling -At Study Abroad we provide you seamless counselling.

University Shortlisting-We'll save your time to get you the RIGHT university.

Visa Filling - Our advisors will help you to fill student visas application
1. Where do I start?
You can't apply for a student visa until you're accepted on to a course in that country. So, if you haven't already done so you need to submit an application for the course you wish to study. Not only that, but you must ensure the course meets the country's visa requirements. Your student visa acceptance will be determined by a number of factors:
Your country of citizenship

Your chosen destination country

The course you wish to study

The institution you wish to study at

How you plan to fund your study
Different countries have differing visa systems and acceptance procedures. However, they are usually very similar:
To study in the UK you need to have received an offer for a place on a course. You need to prove that you can understand English, including reading, writing and speaking. 

For study visa in the US you need to prove that you have a permanent residence in your country of citizenship. You need to have the funds to support your study and intend to return home once your study is complete. Find out more about 

To study in Australia you also need to prove that you have sufficient funds to support your course fees and living costs. You will also be assessed based on the subject you have chosen and your country of citizenship.

To study in Europe you do not require a visa if your country of citizenship is an EU member. If you are outside of the EU you should check your chosen destination's visa requirements for more specific details.
Wherever you chose to study we advise that you apply for your visa as soon as possible.
2. Where do I apply for my student visa?
Usually you will apply for your student visa in your own country. This will require you to visit an application centre. Here you will submit your application paper work and provide any biometric information required.
Below is a list of Visa application centres for the following countries:
UK Visa application centers

Australian visa applications can be submitted online. Biometric information can be submitted at one of the Australian visa application centers.

For a US Student Visa you are required to attend an interview at the

 embassy or consulate.
3. What type of student visa do I need?
If you are studying abroad for your post-16 education you will require a general student visa.
In the UK this is called a Tier 4 (General Student) visa.

In the US this is called a F-1 visa.

In Australia your visa type will depend on your country of citizenship and your chosen subject.
4. How much money will I need?
This is one of the most common questions and is an important factor in your visa application process. It is necessary for you to prove that you have enough funds for your course fees and living costs. However, the money required can vary depending on country and region within that country. Some countries require you to prove that you have funds for the entirety of your course. While others only require proof of funds for the 1st year.
For a UK student visa you will need to prove you have funds for the following:
First year of course fees

£5,400 (£7,200 inner London) to cover living costs for nine months
For an Australian student visa:
Return air fare

Course fees

AUD 18,000 per year living costs
For a US student visa:
Proof of liquid assets to cover cost of first year study and living expenses

Proof of readily available funds to cover remaining years of study
We have created the chart below to help visualise this difference by country for required proof of funds for 1st year postgraduate study.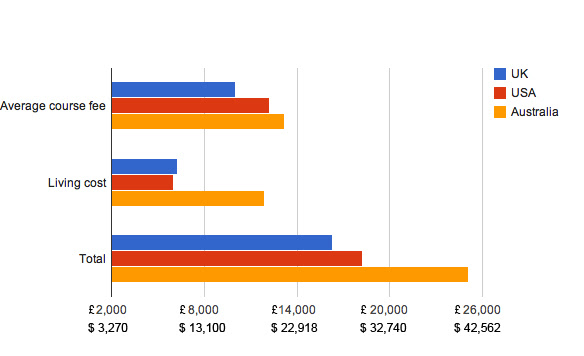 Please note these figures are an approximation for proof of funds required for 1st year.
5. How good must my English be?
The course you have applied for may require you to have completed an English language certificate. In addition to that tighter immigration rules mean you must prove you have a good understanding of English at the border crossing.
New changes to the UK student visa mean that if you are unable to communicate without a translator you will be denied entry.
6. Can my family travel with me?
Your family can travel with you if you meet each countries visa requirements. For the UK you must be on a postgraduate course at a university with at least a 12 month duration. Or a Government sponsored student.
For the US you will have to prove your relationship to your dependent. They will also have to apply for their own visas.
For the Australian student visa you will have to prove that you have a sufficient level of funds available to support each dependent.
We advise that you check the specific requirements for your chosen destination.
7. Can I work on my Visa?
Generally on a student visa you are permitted to work up to 20 hours per week. You can only start working once your course has started.
The same rules usually apply for any dependents you may have.
8. How long can I stay?
On a student visa you are allowed to stay for the duration of your course, as specified in your initial visa application.
You will also be allowed to stay for a short time following the completion of your studies however this can be anything from 60 days to 4 months depending on your chosen destination.
9. Are governments trying to make it harder for international students?
While it may appear that countries are making it more difficult to study overseas the changes in the immigration laws do actually protect your international education.
The aim of these restrictions is to prevent bogus and unrecognised colleges offering poor study courses to international students. Therefore ensuring you receive an excellent education from a recognized institution.
Why we are best immigration consultants in Delhi for Study Visa –  
Province immigration is not only an Immigration consultants ,we are the Best immigration Consultants in Delhi for Canada Study visa .We work with 100%Transparency to give you 100% Success along with  Experience, Expertise and excellence , this is what makes us the Best immigration consultant in Delhi for as well as pan- India level. Below are some points that made us the best immigration consultant – 
Processing fee –We don't charge huge money on the name of sending you abroad, Very affordable and success based fee plan.
Working Days–We work 7 days for our clients.
Scope of services–We work with you for End to End Process and support you throughout.
Refund- We at Province immigration do our best to give you a positive result,Yet if an application gets rejected we will refund 100% of our Processing fee.

Complementary Services-

 Your visa application is just 50% of settlement in abroad, So we provide complimentary services such as Job Assistance, Resume writing,Ielts training, Post Landing Services.

Success Rate-

 We have a success rate of close to 100%, Which is one of the highest in industry.
Visa categories- We apply in multiple visa categories to confirm your invitation from your dream Country without any extra charge.
In order to help us understand your unique visa needs, please drop in your query and our representative will get back to you.